In 1998 Deltronix Enterprises programmed, designed, hosted and marketed the Worldwide Composites Search Engine an industry specific website specializing in the composites materials industry. We are now offering custom configured 'search engine' based websites for your desired industry. Like the WWC (Worldwide Composites)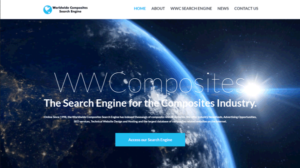 website, our design can include searchable databases of industry related websites, news releases, surplus products, online advertising shopping cart, member lists, newsletter distributions and up to date industry news. You can review many of these features on the existing Worldwide Composites Search Engine Website.
The software is integrated into a custom configured WordPress site which can offer a multitude of differing website designs. The site allows you to generate revenue by highly targeted display advertising in banner, text and screenshots to the visiting users. Additional revenue is available by distributing client news releases, advertising and announcements sent to your user base by the sites email distribution system. The custom designed software allows for collection of email addresses to your various membership distribution lists. Included is a search engine spider which will index websites for the sites custom searchable database and allow you to control who and what is indexed and then displayed to your users. The software is complex enough to allow you to sell placement services within the results. For instance, a URL with a specific keyword can be shown on the first page of the results and this placement option offered to a client for a revenue generating dollar amount. The news database indexes incoming content for display within the blog area of site and also adds the content to a searchable 'news' database that can be integrated with the search engine results. The news content is directly linked to the news source for a one click experience for the visiting client. Additionally, the news content can easily be copied and linked into the periodic newsletter for distribution to your membership list.
Deltronix can host your new search engine based website (recommended) or we can assist in setting up the software at your desired web host or company server. Several options and features lists are available to customize the software for your desired goal. Maintenance and Support contracts are available. We don't abandon our customers once your site is made public like some design houses. We hope to build a long term relationship and offer upgrades and updates as internet technology changes.
For further information or a quote, fill out our Contact Form, call us today at 949-380-8969 x6 or email s a l e s @ d e l t r o n i x . c o m .