Guilty Pleasures:
---
See Opus over there? That's what I like to do: NAP! Can you think of a better guilty pleasure? It's especially nice on a rainy day, when you can just sleep late, a cool, moist breeze to keep you comfortable, and when you wake up you can get a pot of tea and settle down with a good book. [Sigh….] Perhaps even one of these:
My favorite author is Anne Tyler, and I also enjoy reading Jane Smiley, Robert Heinlein, Robert B. Parker, Cormac McCarthy, and finally, Dale Brown. That should provide something for everybody!
I'm psyched! I have come across a page for Trixie Belden lovers! See...I'm not the only one who has read them! Actually my friend Sandy has some too. I recently picked up a couple more at The Dusty Bookshelf in Manhattan, KS, so all I need to do is wait a few months for a rainy day and I'm set!

Actually, the right music to fit the book would make it even better…. Musically speaking, I like to keep my dear friend, Chris Innerst, employed by buying records put out by Elektra Entertainment. When not simply subsidizing Chris, I like to listen to a variety of things, including, Concrete Blonde, Live from York, PA, Natalie Merchant, Wynton Marsalis, Haydn, Elton John, Charles Mingus, and Alice in Chains, among many others. A great all around jazz site is One Stop Jazz on the Web.

Of course, anyone who knows Chris and has been talking to her in the last few months knows that the 'big thing' that she has been working on has been THIRD EYE BLIND. By the way, that's them over there. Don't think you have heard them? Think again. Check out the Elektra page for them and listen to just two bars and I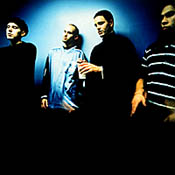 guarantee you will scream Oversaturated! Though that is good for Chris, because it means that at least half of us will be buying the record just because we can't get away from the damn tune. How do I know this? Four words: Alicia Silverstone, Excess Baggage. Sitting in the theater, watching the preview…even I had to cave in. Chris had won the battle. It would be another record sold…. Now if I could just get her to send me some Afghan Whigs and Better Than Ezra, I might consider us even! =)


When I started chemo, I got this great bear named Sebastien. He's mauve. He was a great companion during the fun-filled days and nights of treatment. He couldn't be here to say hello, but he sent his buddy to say hi. Don't forget to be polite and wave back!


When it isn't raining, I like to watch sports. Ok, I like to watch them anyway. Lots of them. Sports Illustrated is my Bible, and I watch ESPN without fail. Normally I don't like CNN/SI, although with the way my favorite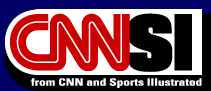 anchors have been bellyflopping off of the big show in the last year I may reconsider, I have to admit that one of the coolest things I've come across on the web is the CNN/SI scoreboard window. It's awesome! You can pick one game to get constant updates on, or it will scroll through them all. And you can still search the web while it is open on your desktop. I may just get a bigger monitor to better accommodate it!


What do I hope to catch? Well, for hockey I like the action of the IHL, for the NFL, I have been a Denver (I don't want

to hear about it) Broncos fan for more than ten years now. Someday they'll even live up to their

potential. With any luck it will be last year, because I don't think I can handle another playoff game like the Jacksonville fiasco. And Elway isn't getting any younger. He deserves a championship! For baseball, well, I'm a Detroit Tigers fan by birth, but after living in Atlanta for many years, you couldn't help but be sucked in by Tommy Glavine and the Braves And they are sooooo easy to follow on TBS. Ted didn't get rich by being stupid, that's for sure! I also recently joined their e-mail list to get updates when I miss the games. Another fun place to go is the official Major League Baseball site. You want baseball info, they have it.

I also keep track of Timbersports

programming for my friends in Maryland, as I am glued to ESPN as stated above and they are not. Timbersports is something that everyone should try at least once. Especially if you are studying Shakespeare.
In a previous life I used to go and whack golf balls around with Lewis and John Nam all in the hopes of someday capturing the attention of Phil Mickelson. Of course he went and got married without consulting me, so I guess I'll just have to be content to watch him on the PGA Tour. Besides the new British Open winner Justin Leonard is pretty cute…I wonder if he's available!

Ok, as you can see below, I do have some true pleasures that are worth feeling guilty about! I truly wish that Knots Landing was still on TNT. I am very grateful that Another World has been renewed by NBC, and Guiding Light has been red hot on CBS! The acting is tremendously good. Even I, who watches soaps religiously, admits to being an acting snob sometimes. I mean, did you ever see Jodi O'Keefe on Another World?! The Rosie O'Donnell Show ,which is syndicated, came along at a perfect time for me. Right when chemo was getting to be too much, Rosie came on and cheered me up. I could always look forward to a wonderful hour. Tune in to see why I love these shows so much! Or at least visit their web sites….

Is anyone hungry? Watching TV always makes me want to snack. Luckily our friends at

have a variety of

crackers and

products to keep us happy. Of course you can't go wrong with Hostess products either. My favorite is still the

, although I'm dismayed that there isn't a site for them. Maybe if I ever have real free time I can start one…. Anyway, if you aren't full yet, check out the Kellogg's site for some fun things. Yummy. It's no wonder I'm not losing any weight! I think I know where those Double Stuff Oreos are hidden….

Finally, there is shopping. I am the official shopping consultant for Chris Innerst and Debbie Greenberg. Thus far I have noticed that I buy less when I'm helping them than when I shop alone, so I think that it is a good deal for all of us! One fun place to go is Levenger's, which has really cool stuff for readers (and non-readers too), and their online site has an outlet section. However, as everyone knows, if you must shop, there really is only one place…the mecca of all….Macy*s! If you can't find it here, you won't find it anywhere. The best is in New York, New York, of course!

---
Last updated July 19, 1997